Stromer
Stromer ST2 Pinion Launch Edition
The ST2 Pinion Launch Edition with exclusive Electric Green finish was developed to take you places comfortably, safely and dynamically. With the 6-speed gearbox from Pinion, Gates Carbon Belt Drive.
Product description
Of course, the most Notable features of the Stromer ST2 Pinion is the All-New Pinion gearbox. This comes from the automotive industry, and you will find the Pinion at the bottom bracket. A particularly reliable system that hardly wears out and requires minimal service. You can easily switch gears via a twist shifter on the handlebars. You can do this from a standstill or while pedaling.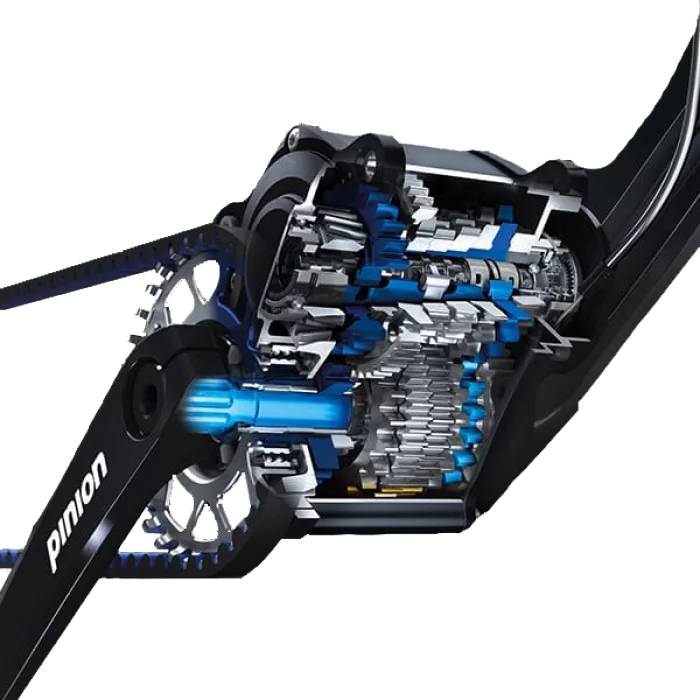 Gates Carbon Belt Drive,
What about the Gates carbon belt drive that comes standard on the ST2 Pinion? You can leave a speed pedelec with a belt drive outside without it rusting. This system requires no oil, lubrication in-depth cleaning which is a huge benefit to the everyday rider.
Great Strong Rear Wheel Motor,
The rear wheel motor gives the most natural support by using a torque based system, comes closest to the feeling of cycling on a normal bicycle, but with extra wind at the back. The rear wheel motor provides 500W (750 W Peak) which is particularly powerful. Lead the pack and ride with ease.
Clean Design,
The welds on the Stromer ST2 Pinion have now also been polished so that you no longer see them. In addition, high-quality large Pirelli Angel GT urban 27.5″ tires are mounted on this speed pedelec. Nice and safe on the road and in traffic while offering substantial puncture resistance. And then the wiring that goes into the steering wheel to the daytime running lights, which also have a USB port underneath so that you can charge your smartphone on the go.
Theft Protection, Bluetooth & Touch Display,
And then about Stromer's technique. Also on the ST2 Pinion you will find a touch display concealed in the top tube of the frame, which is connected to the rest of the world via Bluetooth. On the way, the Stromer OMNI Connect app gives you a lot of useful information, such as your speed, your GPS location, how full your battery is and quite a bit more. You can also see all this data on your smartphone. With the push of a button you can lock or unlock the ST2 Pinion, all via Bluetooth. With the push of a button you can remove the battery from your Stromer e-bike so that you can charge it indoors. And is someone unexpectedly touching your Stromer ST2 Pinion? Then the alarm immediately goes off. And you will receive a notification on your smartphone. If the engine is locked, no one can drive away with your ST2 Pinion except you. Nice feeling.
Satori Adjustable Stem,
Thanks to the 90 mm Satori Python adjustable stem, you determine your own position on the St2 Pinion. You can choose to sit a little more upright on your bike, or you can opt for a sportier position. The stem is also SP-Connect + ready. Completely ready for your smartphone. Which you can use as a second screen with your Stromer app, or to use as a route planner.
Take A Test Drive,
Would you like to try the Stromer ST2 Pinion speed pedelecs to find out if this bike is right for you? Schedule a no-obligation appointment below!
Specifications
| | |
| --- | --- |
| Range | Up to 120km - 180km Per Charge (Range is based on battery size.) |
| Weight | 65 lbs |
| Motor | Stromer CYRO Drive 3 500 W of Power and 40 Nm of Torque |
| Battery | 618wh 48V13ah (Purple), 814wh 48V17ah (Gold), 983wh (Blue)48V20ah |
| Riding Mode | 3 Levels Of Pedal Assist. 1 Top Range. 2 Your Fine Tuned Custom Setting. 3 Full Power. |
| Parts Warranty | 2 Years Or 1000 Cycles Battery, 10 Years Frame |
| Display | Touchscreen Color OMNI C With LTE Technology |
| Controller | 12V Controller by ASI |
| Brakes | Stromer HD922 Hydraulic disc brakes by Tektro |
| Tires | Stromer Pirelli Angel GT 27.5 Tires |
| Fork | 6061 Aluminum Alloy, Tapered |
| Saddle | Ergon ST10 |
| Stem | Satori Python Stem 90 mm (SP Connect+ ready) |
| Frame | 6061 Double-Butted Aluminum Alloy |
| Wheels | Stromer 27.5 x 30 by Alexrims |
| Gears | Pinion C1.6 (6 Speed) |
| Crank | Pinion Gearbox |
| Seat Post | Forged Alloy, 31.6mm, 1-Bolt Clamp |
| Grips | Ergon GA30 Single Twist Shift black |
| Kickstand | High Capacity Center-Mounted |
| Pedals | 9/16" Alloy Platform Pedals |
| Included Accessories | Roxim Z4E Pro Headlight, Roxim R3E Taillight, Battery, Charger, Pedals, Manual |