Sena Technologies
- C$90
SENA R2 EVO
CAD 209.99
CAD 299.99 Excl. tax
The Mesh Intercom™ equipped R2 EVO combines safety and technology into a sleek and aerodynamic helmet. Whether you want to chat rider to rider without shouting, or pair your smartphone to listen to music, the R2 EVO has the featureset to elevate your ride
Product description

Technology to Complete Your Next Ride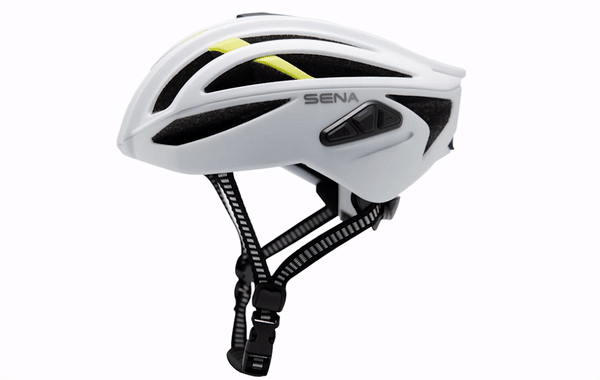 The Mesh Intercom™ equipped R2 EVO combines safety and technology into a sleek and aerodynamic package built for road cyclists. Whether you are looking to chat rider to rider without shouting, or to pair your smartphone to listen to music, the R2 EVO has the featureset to elevate your ride. The R2 EVO's key features include:
Mesh Intercom™

Voice command controls

Built-in speakers and microphone

Smartphone connectivity via Bluetooth®

Integrated LED taillight

Safety certified
Simplify Your Connections with Mesh Intercom™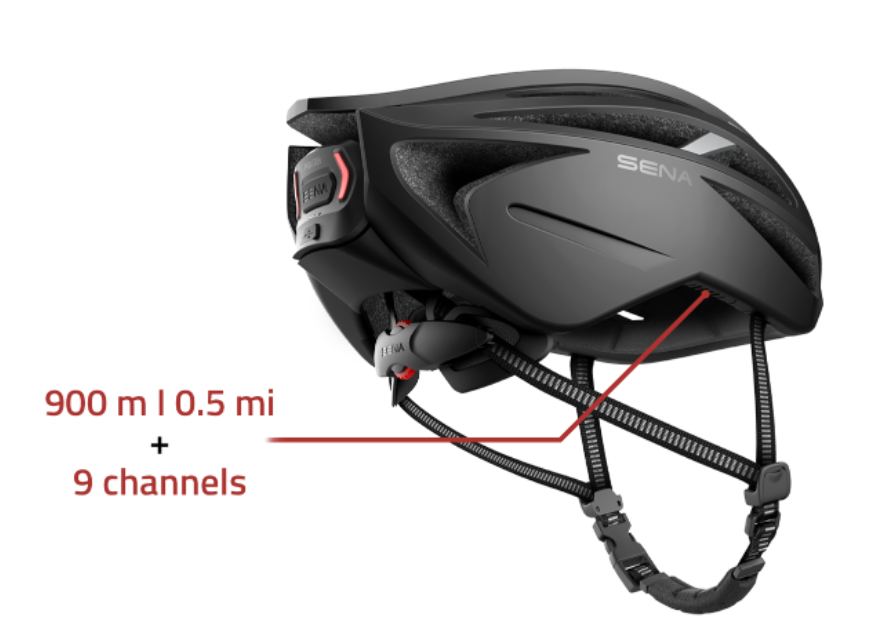 Sena's Mesh Intercom™ allows riders to communicate hands-free with other Mesh users (

R1 EVO

,

M1 EVO

) within a half-mile (900 meters) with the touch of a button. Multi-channel Open Mesh supports 9 channels, letting you switch between different groups on different frequencies. Sena's Mesh platform offers flexibility by allowing riders to come in and out of range while keeping the rest of the group connected. Whether you are riding with one other person or a large group, the R2 EVO will take your ride to the next level. Audio is delivered through integrated speakers located above the rider's ears, which allows for awareness of surrounding sounds such as traffic, unlike in-ear buds. The redesigned speakers have been optimized in order to keep the helmet as slim as possible for less wind resistance. Located in the front of the helmet is a built-in microphone that houses Sena's patented Advanced Noise Control™ technology, picking up and transmitting your voice clearly.
Comfort and Safety

The R2 EVO features a built-in taillight, improving rider visibility on the road. With three brightness settings, you can enhance clarity in different lighting situations. The R2 EVO is also safety certified and built with a protective in-mold polycarbonate shell. The helmet, lined with removable and washable inner padding, features a smooth nylon chin strap, and a spin lock for superior protection and a secure fit.

Take Control of Your Helmet With Voice Commands

The R2 EVO accepts voice commands, giving riders hands-free control of features by speaking rather than pressing a button. Simply say "Hello Sena" and after the helmet response, you can tell the helmet to turn on the taillight, enable Mesh Intercom™, play music, or configure settings.
Pair Your Smart Devices to the R2 EVO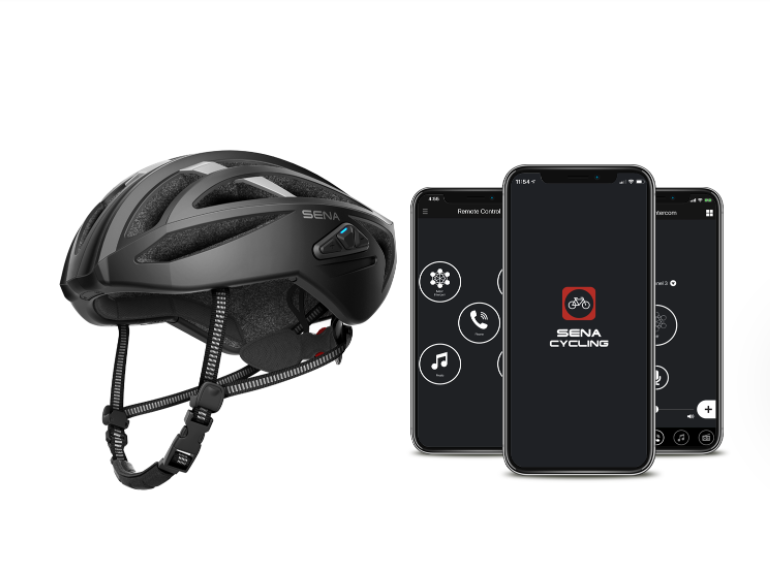 Bluetooth 4.1 technology allows you to connect to your smartphone, enabling you to make phone calls, listen to your music, hear GPS navigation, and even connect to fitness apps. The Sena Cycling App allows riders to conveniently take control of the R2 EVO's features. Through the app, you can create groups of friends to easily connect with, control taillight settings, manage multi-language voice prompt selection, and access the 

Quick Start Guide

 on the go.

Sizes and Colours 

The R2 EVO is available in sizes small, medium, and large. The helmet comes in three unique colors; Matte White, and Matte Black.


Specifications
| | |
| --- | --- |
| Weight | 394 g (M size) |
| Operating Temperature | -10˚C - 55˚C (14°F - 131°F) |
| Storage Temperature | 15˚C - 30˚C (59°F - 86°F) |
| Mesh Network | Mesh Intercom™ Technology |
| Helmet | In-mold polycarbonate helmet shell with EPS liner and Nylon Chinstrap |
| Bluetooth | Bluetooth 4.1, Headset Profile (HSP). Hands-Free Profile(HFP), Advanced Audio Distribution Profile (A2DP,) Audio Video Remote Control Profile(AVRCP) |
| Audio | Advanced Noise Control™ and Built-in SBC Codec |
| Mesh Intercom™ Working Distance | up to 900 meters (0.5 mi) in open terrain *can extend up to 3.6 km (2.0 miles) between a minimum of 6 riders (in open terrain) |
| Mesh Intercom™ Supports | supports virtually limitless number of users, and 9 channels |
| Talk Time | 7 ~ 10 hours (varies based on LED use) |
| Charging Time | 2 hours full charge, 20 minutes of charging equals 3 hours Intercom |
| Battery | Lithium Polymer Battery |
| Charging Temperature | 0˚C~40˚C (32˚F~104˚F) |
| Warranty | 2 years Electronics and Helmet Integrity |
| Electronics Certificates | CE, FCC, IC |
| Helmet Certificates | CE EN 1078, CPSC 1203 |