Aventon
- C$600
Pace 500 Step-Through Small White
CAD 1,699.99
CAD 2,299.99 Excl. tax
Step through this eBike and have fun! The Pace 500 Step-Through electric bike is an enjoyable spin on a classic, making it accessible to everyone. The 5 levels of pedal assist and throttle promote up to 32kmh (20 mph), making this eBike a breeze to ride!
Product description
Other incredible electric bike options for the Aventon Pace 500 Step-Through:
Step through this eBike and have fun! The Pace 500 Step-Through electric bike is an enjoyable spin on a classic, making it accessible to everyone. The five levels of pedal assist and throttle promote up to 32kmh (20 mph), making this eBike a breeze to ride!
Key Highlights:
Comfort
The upright cruiser frame promotes great riding posture - always giving the rider the ultimate level of comfort and ride-ability on this eBike!
Power
750W (Peak), 48V Brushless Rear Hub Motor 500W gives a top speed of 45kmh (28mph) off the pedal assist.
It can reach up to 32kmh (20mph) from the throttle on demand alone.
Range
With a removable Lithium-ion 48V, 11.6Ah (556.8Wh), the distance you can go on this eBike is an average of 40-64km (25-40mi).
 48V 3 Amp Fast Charger is included to provide a quick 3-4 Hour charge (when the battery is fully drained).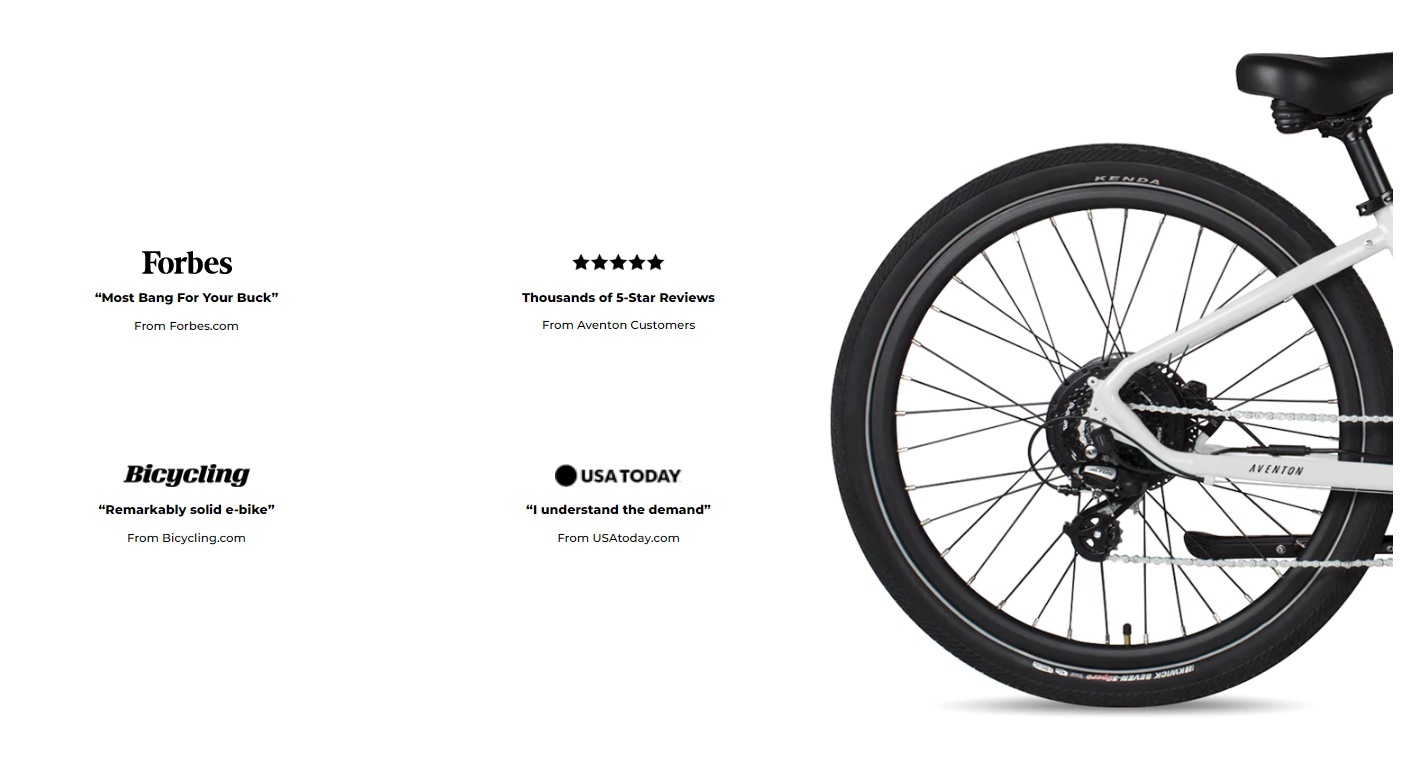 Step through and have fun! The Pace 500 Step-Through takes our most popular ebike and makes it accessible for everyone. While the step-through makes getting on the ebike a breeze, the five levels of pedal assist and throttle with speeds of up to 20 mph also make riding this ebike as easy and breezy as it can get! A powerful motor 750W peak output ensures that your ebike still has the power to get you to the top, even on the steepest hills. The large battery means that you still have the juice left to get you home after the climb. All of this is built into an upright frame equipped with a comfy saddle, meaning that you will experience the power in one of the most relaxed and comfortable positions you'll ever find yourself in on any ebike!
Backlit LCD Display
Focus on the road in front of you, knowing that all the information you need is available on your handlebars on an easy-to-read LCD screen. Displaying speed, pedal assist level, range, and distance covered, this screen is backlit for easy nighttime riding too!
Upright Step-Through Frame
No need to swing that leg over on the Pace 500 Step-Through. We took our most popular ebike and made it accessible to everyone by adding a step-though. Combine that with our upright frame, and you have produced one of the easiest-to-mount ebikes!
Hub Motor & Battery
Take your Pace 500 Step-Through anywhere with confidence! A powerful 750W (peak) motor and fast charging battery mean that you will be ready for whatever adventure comes calling!
Pedal Assist & Throttle
Breeze around without the need to pedal at all when using the throttle function or, if you fancy pedaling, kick in one of the five different levels of pedal assist in helping you get where you're going without breaking a sweat.
Size & Fit

Unlike other ebikes, Aventon doesn't believe one size fits all. The fit of your bike can make or break your riding experience, and Aventon wants you to stay cruising. The hard part is picking a color.

Small: 4'11" - 5'8"
Medium: 5'8" - 6'1"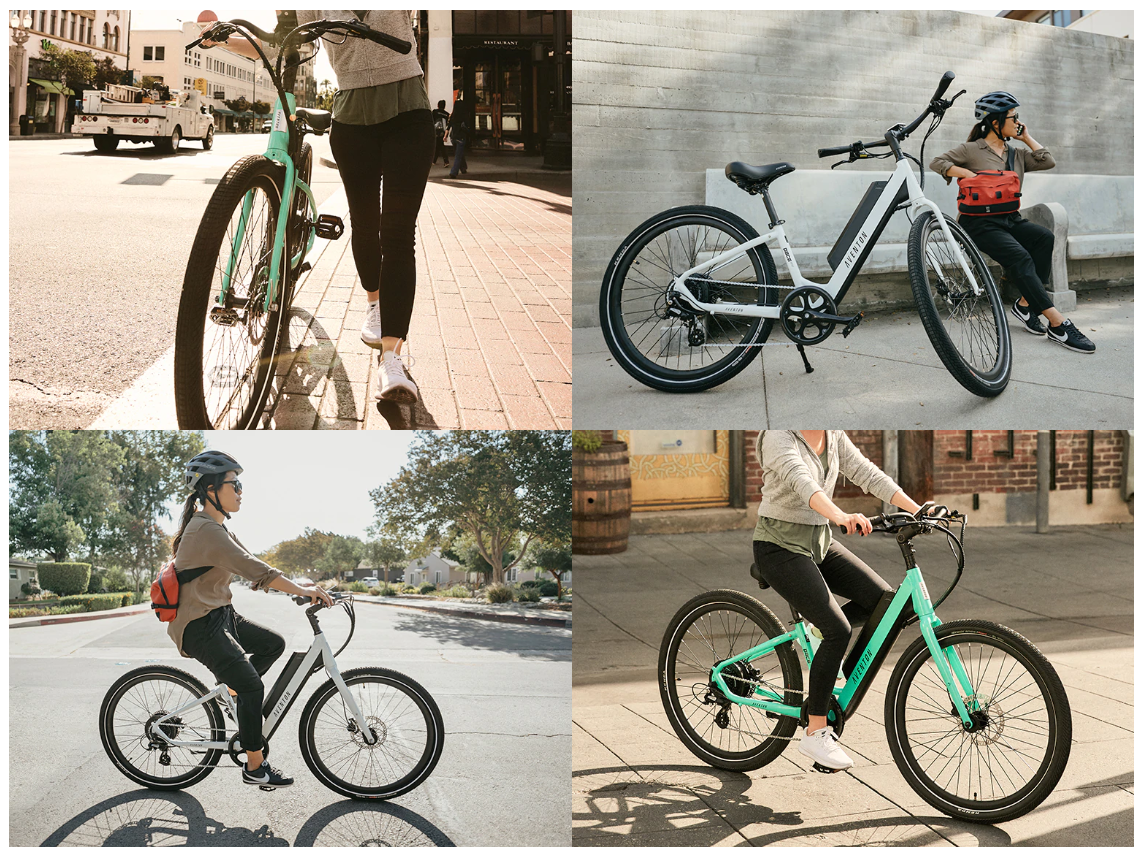 Pace 500 ships as a Class III ebike with throttle and pedal assist. Suppose you are riding on private property or in an area without ebike speed restrictions. In that case, the speed limit can be modified in the settings, and Pace 500's powerful motor can go up to about 4 MPH above the factory set top speed. Pace 500 will also operate with the throttle unplugged and removed, should you want to ride in an area where throttles are not allowed.


Aventon ebikes are built to the IPX4 water-resistant standard. IPX4 means that your bike is resistant to water splashes from any direction. This means riding or parking your ebike in the rain is OK. It won't be harmed by spray from a wet road or raindrops. Your ebike is not intended to be submerged or subjected to a pressurized spray. Don't use a pressure washer or sprayer to clean your ebike.


*Aventon has the right without notice to the consumer to substitute components of at least equal quality for advertised Aventon ebike components in the event of the unavailability of such advertised components. More info

Product information
| | |
| --- | --- |
| Brand | Aventon |
| SKU | 94993 |
| EAN | 660845949935 |
Specifications
| | |
| --- | --- |
| Range | 25-48 Miles Average (40-77km) |
| Weight | 52 lbs (24kg) |
| Motor | 48V Brushless Rear Hub Motor - 500W (Sustained) |
| Battery | 48V, 12.8Ah (614Wh) Removable Internal Lithium-ion Battery with LG Cells |
| Riding Mode | 5 Pedal Assist Levels, with Throttle on Demand |
| Parts Warranty | 1 year warranty from the date of purchase |
| Display | LCD Smart Easy Read Backlit Display, with Colorful Screen and App Synchronization |
| Controller | Aventon Controller |
| Brakes | Hydraulic Disc Brakes |
| Tires | 27.5 x 2.2" Kwick Seven-5 Sport e-Bike Rated Tires, with Reflective Sidewalls |
| Fork | AE-E08 PACE V2 AL Rigid Fork |
| Saddle | Aventon Saddle by SelleRoyal |
| Stem | Threadless 31.8mm Adjustable Stem |
| Frame | 6061 Single-Butted Aluminum Alloy Frame |
| Wheels | 27.5 x 2.2" with Double Wall Aluminum 36h Front & Rear Rims |
| Gears | 8 Speed Rear Derailleur, with 12-32T 8 Speed Cassette |
| Crank | 170mm, with 46 T Crankset |
| Seat Post | 30.9mm Forged Alloy Seat Post, with 2-Bolt Clamp |
| Grips | Ergonomic Comfort Grips |
| Kickstand | Rear Mount Kickstand Included |
| Pedals | 9/16" Alloy Platform Pedals |
| Included Accessories | Rear Mount Kickstand |
5,0/5
average of 2 review(s)
I've had this bike for a couple years now, my first e-bike, and I love it. It's a bit heavy but I assume that's how it is with e-bikes at this price. In retrospect I think I could have gone with the pace 350 because the acceleration and speed (even at the lowest setting) is very strong! I have to turn off the pedal assist and just use the throttle every once in a while to keep the speed casual. There was a bit of an assembly issue, it seems that one of the brake cables is a bit short/tight and very occasionally comes disconnected. Other than that, it's great!
I bought this bike last year for my wife and she loves it, heck I love it. It has close to 500km on it after the summer and it's still running great. Everyone loves the aqua/teal colour, it's a head turner forsure. We both thought the bike was so awesome we decided to buy an Aventon Sinch a few days ago for myself so we can both ride ebikes together this year.