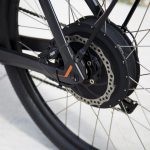 "The ST1 X is the newest member of the Stromer family. Its elegant finish hints at its design and technological innovations. In addition to the clean white and charcoal finishes, you can also choose a fresh shade of orange for your ST1 X. Apart from that, two models with different frame sizes are available. The Comfort model with its 17-inch frame offers great ease of mounting and dismounting, even when you're wearing elegant clothing. The Sport version comes with a 17-, 20- or 22-inch frame, depending on your height."
What Stromer Has to Say
"The ST1 X doesn't need to be charged as often as the ST1. The 619 Wh battery, which is hidden in the down tube, can cover a distance of up to 120 km. If you decide to take the stronger 814 Wh battery, you can ride up to 150 km. Powered by a 500 W Cyro Drive motor with 35 Nm torque, it takes hardly any effort at all to drive off on your e-bike. Enjoy the exhilarating feeling of urban mobility at up to 45 km/h."
PRODUCT SPECIFICATIONS
Roxim X4 EP headlight
Weighs 57lbs
Touchscreen interface
Omni and theft protection included
619Wh battery (48V)
Compatible with the ST2 battery
The ST1x has a 500 Watt 35nm Cyro drive rather than a Syno drive.
Shimano SLX 11 speed.
First Impressions ( by Cody Bullis)
Stromer is only launching one new e-bike model in 2017. I was a bit confused at first but as I took my first ride on the ST1X, it all started to make sense. 
I was lucky enough to take the ST1X for a spin months before it's available in-store. Riding it seemed effortless and smooth, yet powerful. As I rode down Bloor Street, the cars I passed looked dazed and confused. They knew as I drove by with the charcoal colored e-bike, with its copper colored stripe running down the side,  that they made an unfortunate mistake taking their car to work that day. I was zooming by dozens of cars that were stuck in stop and go traffic. Depending on the e-bike, transitioning between different power assists and increasing speed can be evident in the way it rides. The ST1X was nothing but  smooth. The ride was so smooth that I hit top speed without realizing how much work I was putting in. There was a point that my GPS couldn't keep up with the bike. Riding this bike made me feel like a superhero, I could feel the attention it was drawing and damn it felt good.
Stromer outdid themselves again.
My Takeaways
It has a head-turning design with a system to match it
The Omni display is incredible and works well in sunlight
The Stromer GPS tracker is more precise than the one in my phone
Acceleration was incredible
Using the Stromer app was very beneficial

Check riding statistics and battery level
Check GPS location
Adjust the motor tuning for the different assist levels
Lock the bike to protect from theft