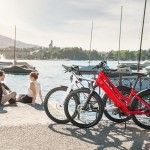 Summertime is all about adventure, it's about creating memories and enjoying yourself. Spending a lot of time outside is essential for summer, especially us Canadians. Between work and winter, there isn't an abundant amount of time to be enjoying our outdoors; well, unless you're a winter person. Our family here at Amego, have been going on adventures all summer long. Bruce, our general manager, just came back from his cottage. Bruce's trip down to his cottage was different than his trips earlier this summer, this time, he decided to take one of our Bionx E-Bikes to ride down on.
Our Sales Rep and Electric Technician, Matt Locke, went to Texas for one of the largest festivals around. Guess how he got around, with an E-Bike. We all know what it feels like to go to a city that we are unfamiliar with and how confusing it can be to jump on their public transport. Matt decided to skip this phase of the trip, instead, he powered up Google Maps and jumped on his E-Bike.
When it comes to sightseeing, one of our E-Bike family members, Dave, has all of our employees beat.
We want to hear from you!!! What trips have you taken this summer with an E-Bike? Big or small, we would love to hear about it. Picnics? Night time rides? A ride down Lakeshore? Every time you share a photo/video of your E-Bike adventure on our Twitter or Facebook, you will be entered into a draw to win a free helmet and lock.
At Amego, we celebrate adventure. We want you to get outside and do something fun this summer. To help out, we created a list of free events that are going on in August.
---
Habari Africa
August 12 - 14
Harbourfront Centre, 235 Queens Quay Centre
More Info
Celebrate African culture at Harbourfront Centre's Habari Africa. The three-day free festival showcases the music, food, film, fashion, and art.
---
Feast of St. Lawrence
August 12 - 14
Friday: 6:30 p.m.
Saturday: 10 a.m. to 11 p.m.
Sunday: 10 a.m. to 4 p.m.
St. Lawrence Market, 92-95 Front St E
More Info
For all the foodies out there, Toronto is kicking off a new foodie festival at the St. Lawrence Market. The feast in Old Town Toronto isn't like most food festivals. Feast of St. Lawrence has three unique culinary experiences.
Here is a little breakdown of the event
Friday - Dinner Under the Stars (tickets must be purchased ahead of time)
Five-course meal by some of Toronto's finest restaurants
hors d'oeuvres
Wine and beer
18-piece jazz ensemble
Saturday
Farmers market
Food vendors/samples
Workshops
Outdoor music
Sunday (family focused)
Free activities in St. James Park
Puppet show
Games and activities like yoga
Face painting and more
---
Wheels on the Danforth
August 13
Saturday 11:00 am
Danforth and Pharmacy Avenue
More Info
Classic car fan? Wheels on the Danforth showcases some of the sweetest rides around. During the day, there are 3 groups of vehicles that will rule the street. They will be judged on how well they've been preserved
Vehicles before 1949
Vehicles between 1950 and 1979
Vehicles from 1980 and up
Evening time is tuner time, same judgement criteria as the classics, but tuner cars have been altered for a performance boost. There will also be a kid's zone and live stage for bands and DJs.
---
Sail-In Cinema
August 18- 20
Thursday - Saturday 8:45pm
Sugar Beach, 25 Dockside Drive
More Info
Take your Bike down to Sugar Beach to watch a floating movie, yes a floating movie. Sugar Beach turns into a drive-in style theater, with a double sided movie screen. You are able to watch from the shore or from a boat in the Harbour. This is a must.
---
Open Streets TO
August 21
Various Locations
More Info, Map
If there was ever a time to explore your community, this is the day. Open Streets TO closes streets to traffic and opens them up for everyone to enjoy. The city closes down selected streets to allow pedestrians to bike, walk, run, or jog, with multiple activity spots and pop-ups along the way, you should be able to get a full day on your bike.