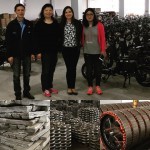 Our CEO and Founder, Virginia Block, flew across the  globe in search of new technology. Currently Virginia is in China, exploring new technology that will be applied to the new line of Amego Bikes. Due to all of the time she puts towards research and development, Amego products are always up to date, and a lot of the time, ahead of the pack .
There are three main factors Virginia takes into consideration when moving forward.
How can she make the world a better place
How to make an impact socially and environmentally
What is best for others and our ecosystem
In the past couple of months, Amego has introduced:
FLYKLY SMART WHEEL
Amego is the first distributor in North America to sell the FlyKly Smart Wheel. The Smart Wheel fits practically any bicycle or lifestyle and :
Has enviable range from 40km to 100km
Can go up to 25 km/h
Has a 250 W motor
and is powered by Lithium batteries
We will dig deeper into the Smart Wheel in a future post
---CLICK THE PHOTO---
CRAFT WORKS CAMBODIA - ELEPHANT BRAND
About a third of Cambodia's population lives below the national poverty level. Craftworks Cambodia was established to provide market access for Cambodian artisans. We are now selling their pannier bags that are made from recycled cements bags.
We will dig deeper into Craft Works Cambodia in a future post