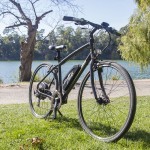 #OperationRide is a challenge. We are challenging all of our e-bike family members to explore their city as much as they can before the snow invades. Our team at Amego will be actively exploring Toronto before winter hits. Follow our journey and everyone else's by using the hashtag, #OperationRide, on Instagram.
Summertime is gone, and with its departure, it has left us with some incredible memories. But with most of the warm weather behind us, there are riders who are going out less frequently. Fall is not a reason to be getting off your e-bike, it's a reason to take more rides than ever before. Scenic routes are becoming works of art, with the continuous change of color and long bike rides are becoming more comfortable without the heat that summer brings.
Here at Amego, we celebrate adventures. We don't want to see people jumping into their cars just because the temperature has dropped. We want to see our e-bike family members riding and enjoying life. Take those long rides in the park, take a trip across town to try out a new coffee shop. You won't regret taking your bike to work in the morning, but you will regret taking your car as soon as you hit rush hour traffic. Leave that frustration for winter time.
We will continue to ride until there is a foot of snow on the ground. Follow us to see where we will be traveling to next.