Posted on
By naturallymitch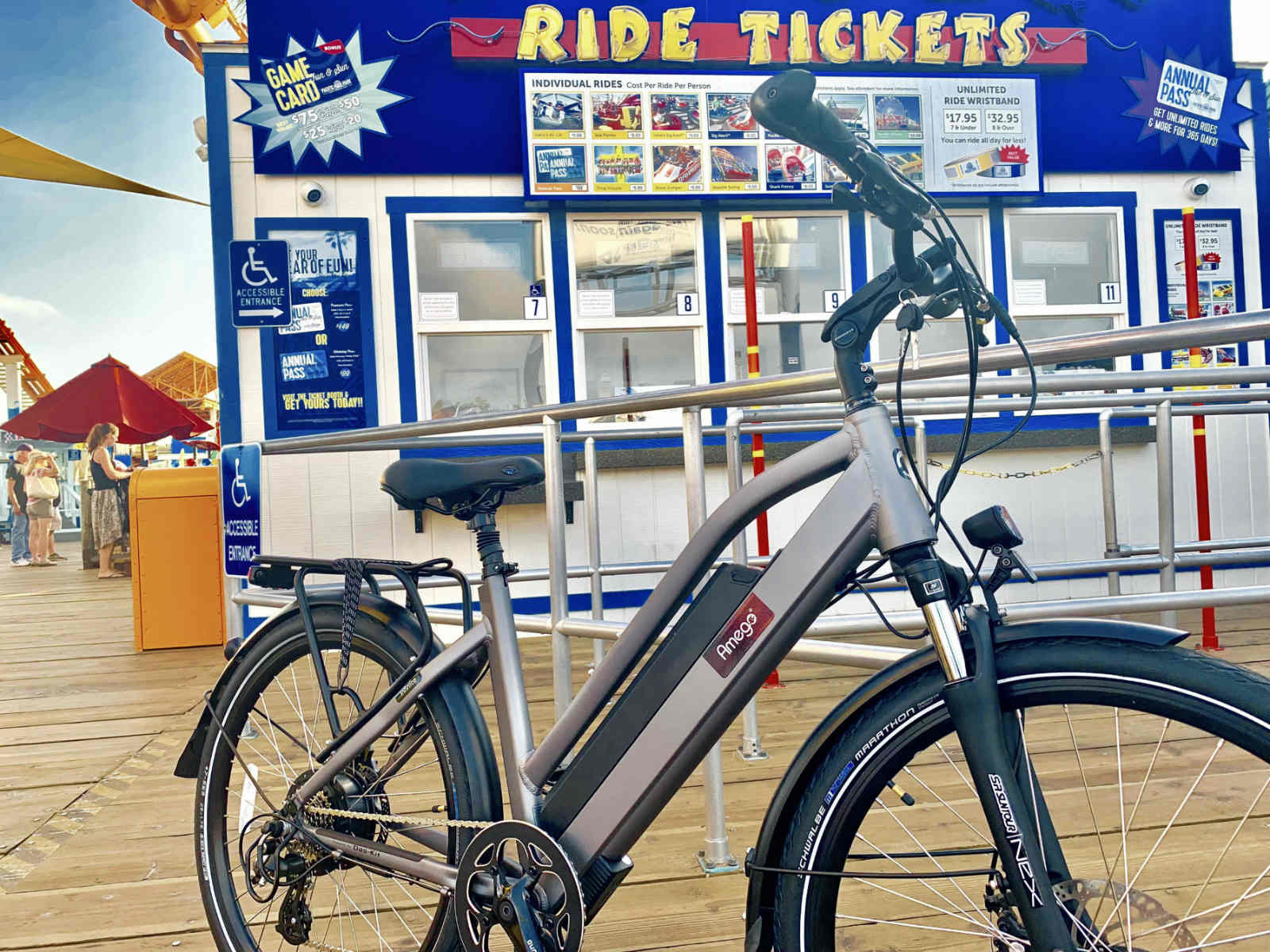 Check out this great review of our Infinite from our friends over at The Bike Shop California!
Amego is a Canadian company, founded by Virginia Block. After over eight years in the electric bike industry, they have become Canada's most trusted electric bicycle expert. With the launch of the 3rd generation Amego Infinite, we couldn't wait to get our hands on one. It comes in both a standard top tube and a Step-Thru version. The 500-watt motor, controller, and L7 display are manufactured by the German company Das-Kit, that has 15 years experience in the e-bike industry.
What makes them different?
The Amego Infinite closely resembles the looks of a "normal bike." Meaning, it has a top tube that stretches from the seat tube across to the head tube where the handlebars and stem are. However, the Infinite Step-Thru model has a lower top tube that makes it easier to put your leg through the frame to get on and off the bike. Depending on the size you choose, the bike comes with either 26″ or 27.5″ wheels. The S/M Step-Thru has 26″ wheels, while the M/L model has 27.5″ wheels. The non-step-through Infinite only comes with 27.5″ wheels.
The Amego weighs in about the same for both models at 58lbs. Shimano's Acera 8 speed groupset complements the affordability of this bike at only $1999. It's' nice knowing that they didn't put the bottom tier parts on here. There's a 48 tooth chainring in the front and an 11-32 cassette in the back. It's an excellent ratio for most types of riding and commuters. One thing we always like to mention is that IF your battery dies for whatever reason, it's always good to have the option of pedaling like a regular bike. Although the gear ratio is already efficient, there are tons of power adjustments to suit your needs and extend battery life. For battery options, you can choose from the 48V 13Ah 624Wh Lithium-ion battery or upgrade to the 48V 16Ah 768Wh battery for even more power and battery life. They both come with an integrated USB charging port for your phone, battery packs, lights, and more.
Commute with speed and comfort!
The Das-Kit 500 watt geared hub motor produces around 80nm torque which means pedal-assist picks up quickly. It's one of the more responsive electric bikes we've tested here at The Bike Shop California. You'll get up to 25mph (40kmh) whereas the throttle caps at 20mph (32km). All things considered, 20mph is still faster than the average commuting speed. The L7 LCD shows your speed, distance, assist level, battery, current, and error code indicators. To turn on the walk assist, hold down the – button in case you need some help pushing the almost 60lb bike around. Headlight and rear light are both included. The only thing to note is that the main battery does not power the rear light. You'll have to replace the batteries when they run out. As mentioned before, there are many settings to make it operate as a class 1,2,3 electric powered bike so you can modulate your speed.
Tektro hydraulic disc brakes with 180mm rotors come stock on the step-thru, but for some reason, the Infinite is fitted with a 160mm rotor on the back. All that means is better stopping power on the step-through model. Motor cut-outs have become very popular on ebikes for many reasons, including safety. The Amigo Infinite has one on the left brake lever. It worked very well without any jumps or jolts like we've experienced on other bikes in the past. When your legs need to take a break, the throttle is easily accessible and can override the pedal assist. They've included a bell, so you don't have to scream at people jumping off the sidewalk without looking. We're big fans of an included rear rack because they always flow well with the design of the bike. Sometimes, installing racks on bikes can be a little tricky. This one is rated at 55lbs and held up well when we loaded it with a couple of panniers filled with all of our barbecue goods.
How does the ride feel?
We loved the feel of the 27.5″ x 2.0″ Schwalbe Big Ben Tires. They're puncture- resistant, comfortable, and handle road imperfections well. If you've ever ridden a bike in Santa Monica, Venice, or Culver City, you know how much glass and debris there can be. Not once did we get a puncture or pinch flat. The benefit of having the Suntour fork on the front is pressure relief off of your hands. Pair that with the gel Selle Royal saddle mounted on a suspension seat post and you have a very comfortable electric commuter bike. Have you ever used a suspension seatpost? If not, that could be the most significant selling point. It takes away so much road vibration and usually it's a pricey extra. Adding to your comfort is the Promax Tool-Free Easy Adjust 100mm stem that doesn't require any tools. Just flip the button and adjust!
Operating the Amego Infinite is seamless with the Das-Kit L7 panel. Powering on is easy. Just press the "M" button, and then you can use that to select the different modes. The + and – buttons will, of course, adjust the 6 levels of assist up or down. The battery readout also has six bars which is something we found very valuable because most brands have 4 or 5. It gives you a better understanding of how much battery you actually have left instead of guessing.
How you can get the most out of the 'Infinite'
If you keep the power level on 3, it seems to be a happy medium. The pedal assist kicks in very quickly. Before you know it, you're up to speed, and the next light is already there. After different tests around town, we could still maintain a comfortable commuting speed even at level 3. We're all different heights and weights and were able to get consistent speeds throughout the assist levels.
So who's this bike for?
Someone who is looking for an upright riding posture, adjustable speed and something sturdy enough to support varying rider weights is going to love this bike! It's also an ideal city bike for people that crave comfort, speed, and versatility on their commute. With 30-65mi (48-105kms) of range and a removal battery, "range anxiety" won't ever really be a problem. If you fancy bikes that match iPhone colors, the Step-Thru Infinite comes in space grey, rose gold, and aluminum, while the Infinite keeps it modest with Black and Aluminum.
Pros
- Included chain guard on the crankset keeps the chain from bouncing off, your pants from getting dirty or getting caught. (RIP to all the shredded pant legs that we've caught in chainrings)
- The Velo Ergo grips are a lock on so they won't rotate as you ride
- The adjustable stem makes finding your perfect position easy!
- Affordable and packed with extras that most companies charge an arm and a leg for
- Because the bike takes off quickly, having hydraulic disc brakes and big rotors provide a greater feeling of safety
Cons
- We wish the main battery powered the rear light. It can become a hassle in the longterm, but hey, at least it comes with one, right?
- Because they positioned the rear rack so far forwards, it can affect what accessories you put on the back. If your saddle is up higher, you shouldn't have any problems with a basket or trunk bag.
- The throttle is a bit touchy. You won't pop a wheelie, but make sure you're sitting down
Follow Them Over At:
Instagram: https://www.instagram.com/bikeshopca/
Facebook: https://www.facebook.com/BikeShopCa/
Online: https://www.bikeshopcalifornia.com
—————
Author: Mitchell Dick, LiveTravelCycle.com