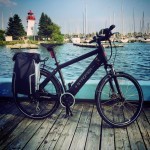 (Testimonial, written by - Jon Finkelstein)
At the beginning of the Summer I decided to bike to work instead of driving in from Mississauga. Less traffic. Less stress. More exercise. I already had an ebike when I walked in to Amego. It's just wasn't a very good one.
New determination = justification for new wheels. Am I right?
I think Amego is the Shangri-La of ebike stores. Two floors packed with some of the coolest ebike tech you can buy. As a newbie, I needed some expert advice. Luckily Bruce came to my rescue. Because I already had an crappy ebike (see above, lol) I was just "looking". At least that's what I told Bruce. You know, doing research in case I ever wanted to upgrade.
Bruce took me through all the choices, explaining in layman's terms the differences between the different style of electric bikes and brands. I was immediately drawn to the Stromer. I don't know if it was the flat black paint, the Swiss flag, or how the battery is integrated into the frame, but I was "smitten."
A quick test ride couldn't hurt, could it?
Bruce explained how the Stromer is pedal assist – very different than my other ebike's throttle. I was blown away with the smooth transition between pedaling and bike power. In fact, riding the Stromer in "Tour" Mode is like the hand of God pushing you. There was no turning back. My old ebike was dead to me. The future was Stromer.
"I'll take it," I declared to Bruce. I don't think he was at all surprised in my decision. In fact, he made me feel wise. I know he is right.
That was June 16th. Since then, I've ridden to work at least 4 days a week – covering 45kms a day (most of it along the Martin-Goodman Trail, which is beyond awesome). My odometer is already over 1200kms. Some days I use the pedal assist on high while other days I don't use it. That's the beauty of the ebike technology. It's totally customizable. Which means there's never an excuse NOT to ride.
Now in the dog days of Summer, I am already planning to ride until the snow flies. Maybe even longer depending on the road conditions. Guess you can say I am addicted to biking. I've lost weight. And I am not angry when I get to work after sitting on the Gardiner Expressway.
Did Amego and my Stromer change my life? Yeah, you could say that.