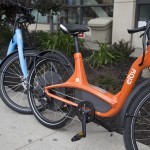 Earlier this summer Amego introduced Elby E-Bikes to its sales floor, a revolutionary form of transportation, and now they're ready to meet you too. The line of Elby E-bikes is offered in fun, vibrant hues such as bright orange and ocean blue, perfect for getting you noticed. After all, the bikes were designed with you in mind.
Amego is the first e-bike carrier in Ontario to have the Elby.
Two main issues always arise when designing a bicycle and making it shareable
Issue number one is height: Who here has bought a bike that they weren't able to share because of the height? Even with an adjustable seat, users often still face the challenge of finding the perfect setting to suit your build.
The second flaw in bicycle design is the frame; it limits what type of attire you can wear. In the earlier days, due to lower quality materials, men had a bar horizontally across the top for structural balance; Women were offered a sloping bar to allow unrestricted biking while in a dress or skirt. With this problem being less of an issue, the design has become more of a tradition than a problem solver. But wouldn't it be nice to have a bike that was universal and stylish? A bike that your partner and you could share?
Welcome to the Elby Neighborhood from Elby Bikes on Vimeo.
That is where the Elby E-Bike comes in. Elby has reinvented the bicycle frame to allow for a more diverse variety of riders to enjoy the luxury of a comfortable yet trendy ride.
"The airfoil-inspired aluminum alloy frame is light, strong, durable and, may we say, easy on the eyes.",("Elby Bikes", 2016).
The Elby offers a truly stunning design with a step through frame, allowing anybody wearing any attire to saddle up with ease. "Whether you're wearing a skirt, suit or your weekend gear, Elby's design is easy to get on and off in any attire" ("Elby Bikes", 2016).
Whether you're going to work, out for a coffee, or just for a casual ride, the Elby makes the ride from point A to B enjoyable. No matter how tall you are it's the Elby promise to keep you covered. Say goodbye to frustrating commutes in your cramped car and welcome the fresh breath of air that is Elby. With its 4 levels of power assist and thumb throttle, 32km/h is one push away. Now you can actually enjoy your daily commute, wherever it is.
The Elby won the 2016 design of the year award at EuroBike.
"Elby is a pedal-assist e-bike that combines a pure design with the needs for todays city mobility following multiple trends. With its unique 4-point-adjustable concept a size adaption for riders from 150 cm to 200 cm – even with different geometries – is easily achieved. Thus Elby is the perfect partner for city communities: families, shared flats, BnBs and start-up-businesses – all those who lack space in city environment, support CO2-friendly, jam-free mobility and want a maximum of cost efficiency from a single product. The technical design features a stable and versatile chassis with a custom drivetrain, a super high-capacity Li-Ion battery and hydraulic disc brakes." ("EuroBike", 2016).
Top Features