Kryptonite
- C$0
KRYPTONITE New-U New York Lock LS
CAD 224.99
CAD 224.99 Excl. tax
New York Locks don't mess around. A classic go-to, Kryptonite U-Locks are renowned for high security protection. Designed to survive the streets of New York, this lock has got you and your bike covered.
Product description
New York Locks don't mess around. One of the highest security U-locks offered by Kryptonite, the New-U New York LS U-Lock is built to withstand nearly any thief's attacks. This lock is built with a 16mm hardened MAX-Performance steel shackle and hardened double deadbolt design for additional protection against twist and cut attacks. This lock has you covered with the highest security level disc-style cylinder, that is both pick and drill resistant.
Using a long shackle design, this lock offers additional locking room to fit around objects further away from the frame of your bike. This lock features a patented hardened steel sleeve that goes over the crossbar for double security, and a center keyway to defend against leverage attacks. Protective vinyl coating and sliding dustcover guard your lock from dirt and debris, and extend cylinder life. The Kryptonite New-U New York Lock LS comes with 3 stainless steel keys, including 1 lighted key with a high intensity LED bulb and replaceable battery. 
The Kryptonite New-U New York Lock LS is covered by Kryptonite's Lifetime Warranty, and Key Safe Program and has a security level of 9/10.
Features
16mm hardened MAX-Performance steel shackle that resists bolt cutters and leverage attacks
Patented* hardened steel sleeve over crossbar for double security
Highest security disc-style cylinder is pick and drill resistant
Patent-pending hardened double deadbolt locking for extensive holding power and additional protection against twist and cut attacks
Center keyway defends against leverage attacks
Protective vinyl coating
Sliding dustcover protects from dirt and debris and extends cylinder life
3 Stainless steel keys - including 2 standard keys with new design and one key lighted with high intensity LED bulb & replaceable battery
Not compatible with Flex Frame-U Bracket
Key Safe Program
9/10 security rating

Get the Facts
COLOR: Black / Yellow
DIMENSIONS: 4" x 10.25" (10.2cm x 26cm)
SECURITY RATING: 9/10
WARRANTY: Limited lifetime warranty
WEIGHT: 4.85 lbs (2.20 kgs)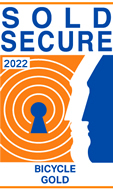 Product information
| | |
| --- | --- |
| Brand | Kryptonite |
| Article code | 210000001250 |
| SKU | 002161 |
| EAN | 720018002161 |