Pace 500 V2 Step - Free Extra Battery Shipped After
C$2,399.99 CAD
C$1,799.99 CAD
Aventon
- C$600
Pace 500 V2 Step - Free Extra Battery Shipped After
CAD 1,799.99
CAD 2,399.99 Excl. tax
The Pace 500 V2 Step-Through makes getting on the electric bike a breeze. The powerful 500W motor ensures that, even on steep hills, your ebike will get you to the top, and with its improved, fully integrated battery, you still have juice left to get home
Product description
Free Extra Battery Shipped After Direct to You from Supplier. 
The Next-Gen Pace 500 Step-Through makes getting on the ebike easy. The powerful 500W motor ensures that, even on steep hills, your ebike will get you to the top, and with its improved, fully integrated battery, you still have juice left to get home. Newly added integrated tail and headlight would ensure you will see and be seen on your journeys ahead, whether it's a trip to the farmers market or a casual stroll in the park.
Key Highlights
Convenience
Adjusting the angle of the stem allows you to raise or lower the handlebars to find your most comfortable upright riding position!
Our easy-to-read, full-color display is simple to monitor your speed, range, pedal assist level, distance, and so much more.
Performance
With puncture-resistant tires, there is no need to worry about a lack of a ride due to sunken tires. 
 500W rear hub motor coupled with fast charging fully integrated 48v battery!

With pedal assist, get up to 45kmh (28mph), and with just throttle on demand, get up to 32kmh (20mph)
Range
With pedal assist, get up to 76km (47mi) and up to 48km (30mi) with throttle-on-demand!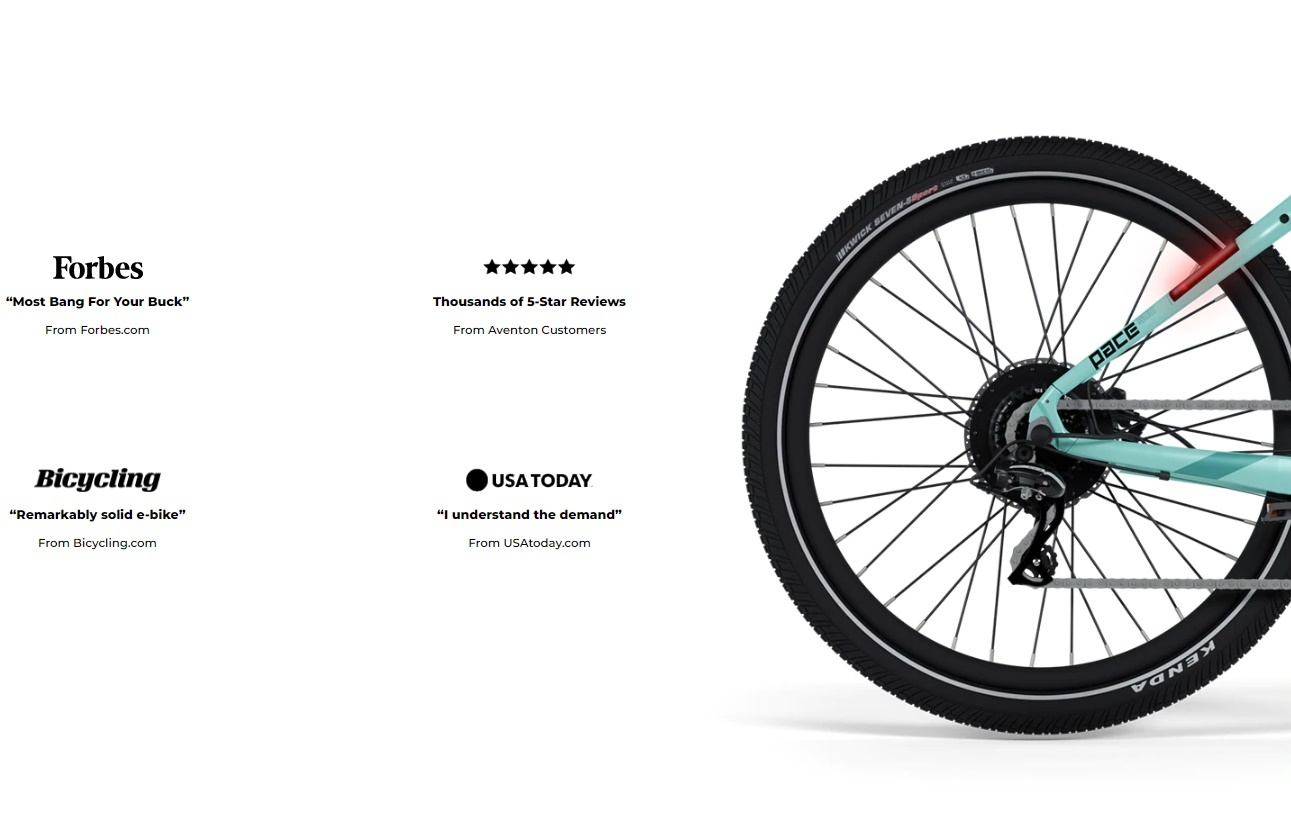 Backlit Color Display W/App Sync
Focus on the road ahead, knowing that all the information you need is available on your handlebars on an easy-to-read, full-color display. See your speed, pedal assist level, and distance when biking. Charge your smartphone via its concealed USB port and sync to the Aventon mobile app to share your rides with other Aventon riders! 
Upright Step-Through Frame
No need to swing that leg over on the Next-Gen Pace 500 Step-Through with the low standover height. Combine that with our classic upright frame geometry with a swept-back, cruiser-style handlebar, and you have one of the most comfortable ebikes ever produced!
Adjustable Stem
Aventon's only ebike to arrive with an adjustable stem; easily fine-tune the branch's angle to raise or lower your handlebars and say goodbye to shoulder and wrist pain and hunching forward! 
Puncture Resistant Tires
Have peace of mind knowing that puncture-resistant tires provide a layer of added protection when out and about, and a reflective material embedded into the tire sidewall will reflect and make you visible when lights are flashed at you during night-time rides.
Integrated Lights
See & be seen both day & night. Integrated tail lights turn on as you pull the brake levers, and the bright, 40 lux headlight will help guide you through low visibility conditions.
Integrated Motor & Battery
Take your Next-Gen Pace 500 Step-Through anywhere with confidence! A powerful 500W motor and fast charging, fully-integrated battery means you'll be ready for whatever the urge to ride calls.
Pedal Assist & Throttle
Breeze around without the need to pedal when using the throttle function or, if you're up for pedaling, kick in one of the five different levels of pedal assist in helping you get where you're going without breaking a sweat. 
Aventon Connect APP
The ride connect App by Aventon allows you to connect to your bike and the community. Adjust bike settings, Track your rides or talk in a Aventon based social media page to get the full Aventon experience.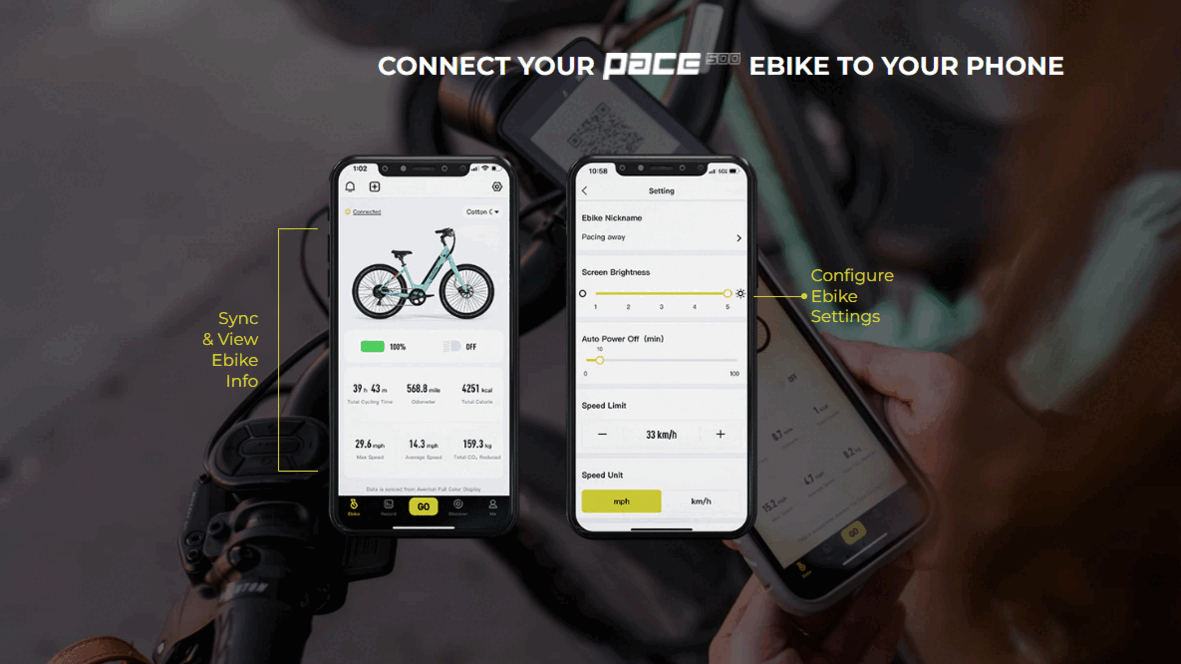 Size & Fit

The Pace 500 Step-Through comes in 2 sizes to suit most adults.


S/M: 4'11" - 5'7"
M/L: 5'5" - 6'
How To Assemble Your New Aventon Pace 500
*Aventon has the right without notice to the consumer to substitute components of at least equal quality for advertised Aventon ebike components in the event of the unavailability of such advertised components. More info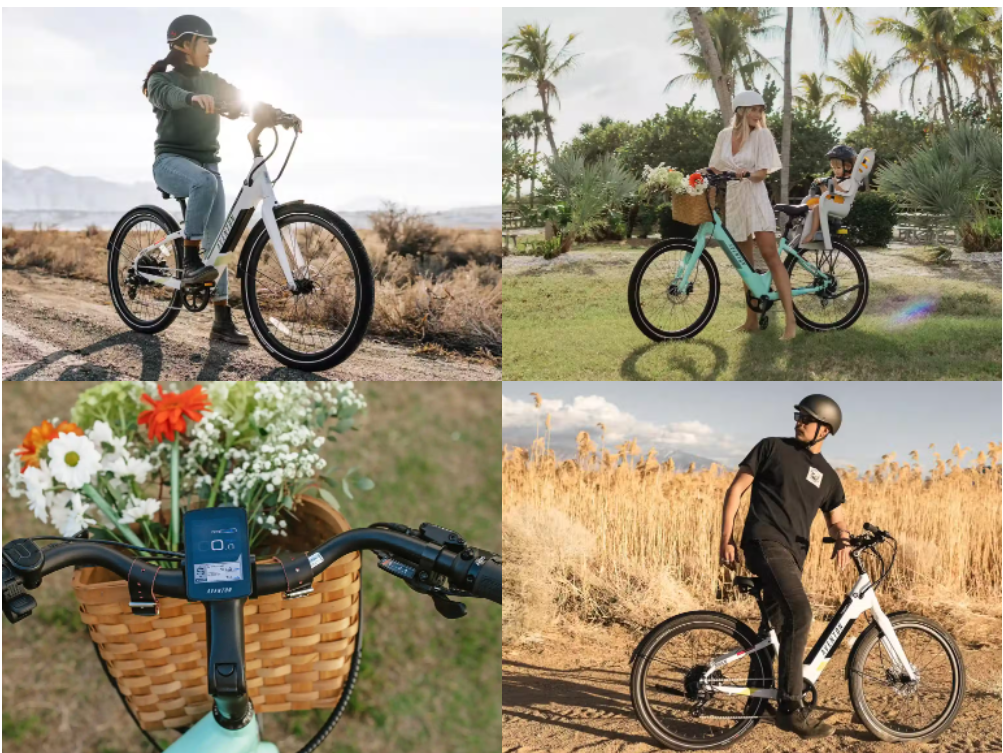 Product information
| | |
| --- | --- |
| Brand | Aventon |
| SKU | P5S001 |
| EAN | 660845954717 |
Specifications
| | |
| --- | --- |
| Range | 40 Miles Average (64km) |
| Weight | 52 lbs (25kg) |
| Motor | 48V Brushless Rear Hub Motor - 500W (Sustained) |
| Battery | 48V, 12.8Ah(614Wh) Removable Internal Lithium-ion with LG Cells |
| Riding Mode | 5 Pedal Assist Levels, with Throttle on Demand |
| Parts Warranty | 1 year warranty from the date of purchase |
| Display | LCD Smart Easy Read Backlit Display, with Colorful Screen and App Synchronization |
| Controller | Aventon Controller |
| Brakes | Hydraulic Disc Brakes |
| Tires | 27.5 x 2.2" Kwick Seven-5 Sport e-Bike Rated Tires, with Reflective Sidewalls |
| Fork | AE-E08 PACE V2 AL Rigid Fork |
| Saddle | Aventon Saddle by SelleRoyal |
| Stem | Threadless 31.8mm Adjustable Stem |
| Frame | 6061 Single-Butted Aluminum Alloy with Internal Battery |
| Wheels | 27.5 x 2.2" with Double Wall Aluminum 36h Front & Rear Rims |
| Gears | 8 Speed Rear Derailleur, with 12-32T 8 Speed Cassette |
| Crank | 170mm, with 46 T Crankset |
| Seat Post | 30.9mm Forged Alloy Seat Post, with 2-Bolt Quick Release Clamp |
| Grips | Ergonomic Comfort Grips |
| Kickstand | Rear Mount Kickstand Included |
| Pedals | 9/16" Alloy Platform Pedals |
| Included Accessories | Rear Mount Kickstand, and Integrated Rear Lights |